THE WARRENS : CHAIR MAKING IN HOLCOMBE ROGUS
Henry Hugh Talbot Warren (Kay's father) came from a quiet agricultural area in north-east Devonshire, close to Wellington in Somerset. This was hardly an area where one would have expected to find an 'industrial centre', but there was a large chair-making industry there which produced chairs by the thousand at a price of 4/6d per half-dozen!

"Th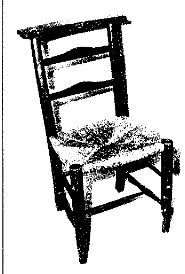 e English Regional Chair", by Bernard Cotton, contains several pages about chair-making in the villages of Holcombe Rogus, Burlescombe and Uffculme. In the early part of the nineteenth century, the chair -makers worked as separate craftsmen, but in the 1850's the trade became centralised in Holcombe Rogus; two families, the Warrens and the Scotts became 'chair-masters', employing most of the other chair-makers.
The Warrens of the time were Henry Warren's great-grandparents, William and Hannah Warren. Bernard Cotton concluded that the chair-makers of the area belonged to families who had lived in the three villages since at least the early seventeenth century. It is said that chair-making was actually begun in about 1550 by Spanish prisoners. It seems likely that William's father George was also a chair-maker. George, born 1739, was the son of Matthew Warren whose name appears in the 1723 Oath Rolls for Holcombe Rogus, and he was designated a 'yeoman' of Holcombe Rogus in the 1767 list of Devon Freeholders.
George and Joan Warren
George Warren married Joan Russel in 1797, when Joan was aged 24, and William was born in 1799. On might have expected George to be in his twenties, but it appears that he was much older. The evidence which Paul obtained seems to show that George was born in 1739 and had a previous marriage to Sarah Baker. He then married Joan after 18 years as a widower. George and Joan had at least one other child. Elizabeth Warren was born in 1805. She married Elias Daw in 1833, of an interesting family who lived some distance away at South Perrott in Dorset.
What brought Elizabeth Warren to South Perrott? It may have been connected in some way with the building of Mosterton church which was completed in the same year that she married Elias Daw. The Daw family were woodworkers, like the Warrens. Elias Daw, father of Elias was the local carpenter; he organised the building of two local churches: Cheddington, and the chapel of ease at Mosterton. He has an interesting epitaph, quoted in the following extract.
The builder of the church was a whimsical individual of whom it would be uncharitable to speak severely in an architectural or any other sense after reading the inscription upon his tomb in South Perrott churchyard. Some years before his death he caused his grave to be dug, as well as that of his wife, who was also living, the two graves being separated from each other by a wall of single bricks, through which was an aperture for the convenience of the buried couple's shaking hands when in some imaginary state of existence which the old man's silly fancies had suggested. The inscription is as follows:-
'To the memory of Elias Dawe, who died June 23, 1847, aged 72 years; and also of Elizabeth his wife, who died March 23, 1848, aged 83 years. The above was a carpenter for this parish and Cheddington 52 years, and never served any apprenticeship, or ever went to school one day in his life. He builded two churches in his time. He was old in years, in honors, in wisdom, and in virtue. His afflictions were sanctified, and laying hold of that hope which brings a man peace at the last, he closed a life of usefulness by a death of tranquility.'
Clearly the building of quite a large church at Mosterton (359 seats), and its furnishing, would have required workers from outside the area. Perhaps the Warrens were involved in some way, and this led to Elizabeth Warren meeting Elias Daw junior.
Elizabeth Daw (nee Warren) was still living in South Perrott in 1881, near to her son Elias, a wheelwright, and his family
William and Hannah Warren - chair-manufacturers

William Warren married Hannah Woodbury (from another chairmaking family) in 1821, and they had at least ten children. In the 1841 and 1851 censuses, William was recorded as a chair maker, but by the time he died in 1859 he was calling himself a 'chair manufacturer'. The business was then continued at Frog House by Hannah Warren, supported by her sons John, William, Edwin, Henry and Francis who were all chair makers at that time.
Hannah Warren died in 1868, aged 70. The chair-making business still continued at Frog House, but William Warren junior was now in charge, employing 13 men and two boys in 1871. But chair-making in the region was beginning to decline, and by 1881 most of the chair-making Warrens were doing other things. William Warren junior seems to have bought a 67 acre farm at Ford Place, Holcombe Rogus. His son, also William Warren was the Inn-Keeper at the "Royal George" in Holcombe Rogus. Henry had moved to Sampford Arundell where he was working as a carpenter. Francis had become a postman, living in Wellington. The only chair-makers remaining among the Warrens were John and Edwin, John's son Reuben and William's son Walter. Walter Warren may well have been the last of the chair-making Warrens, still working in the trade in 1901. The old workshop pictured in Bernard Cotton's book may have been Walter Warren's workshop.
In 1860 Edwin Warren married Mahala Talbot, daughter of Hugh and Ann Talbot.
The Talbot Family

(much of the following was provided by David Norton, another Talbot-descendant)
The Talbots were another Holcombe Rogus family. Hugh was the baker, and they lived at Dunn's Court, an ancient thatched cottage which is still a feature of the village. Ann Talbot was the schoolmistress. Hugh was one of a chain of at least six successive "Hugh Talbots", this apparently being the traditional name for the eldest Talbot sons. Other local branches of the Talbot family also included their own "Hughs".
The Talbots were a prosperous and well-educated family. The first certain ancestor was Hugh Talbot (1668-1728) who farmed at Hagley Bridge on the River Tone, north of Ashbrittle, Somerset. It seems very likely that he lived in "Hagley Bridge Farmhouse". This 16th century house still stands and is described in some detail on a page in the Taunton Deane locality website.
The next HughTalbot (1707-1793) farmed at Holcombe Rogus and had a large family (5 sons and 4 daughters). In 1780 he was occupying Fenton Farm, north-east of the village; this farm too still exists, and is currently a free-range chicken farm. His son, Hugh Talbot (1732-1785) also farmed in Holcombe Rogus, the largest of his lands being at Burrow, close to Fenton farm.
Hugh Talbot (1768-1850) followed his father into the farm at Burrow, and continued to farm there until 1841. Also farming in this period was another Hugh Talbot, a first cousin, who had inherited Fenton Farm. This Hugh had a son James who continued at Fenton for a while before setting up a lime business in Holcombe Rogus. He lived at Pear Close, another property which had been in the Talbot family for many years.. Sarah Warren, Edwin's sister, was a servant at Pear Close in 1851.
This James had brothers , John Talbot and Hugh Talbot (born 1803). There was certainly money in this branch of the family. John left £5,000 in his will; James was able to send his children away to boarding school.
Hug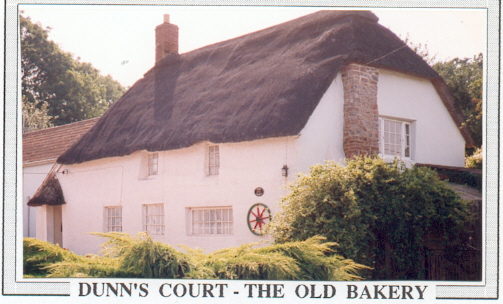 h Talbot (1801-1881) was the first to leave farming. Like most of the Talbots, he had a large family, Mahala having many brothers and sisters.. We know what happened to some of them. Robert was a postman, Hugh a farm labourer, Benjamin a baker and then an innkeeper. Elizabeth married Thomas Parsons, a baker, who eventually took over the business at Dunn's Court.

Hugh Talbot was still living at Dunn's Court in 1881when he died, aged 80.




Edwin and Mahala Warren and their family

Edwin and Mahala Warren lived first at Four Elms House. They too were to have a large family of at least eight children. The choice of some quite obscure biblical names for some of the children (Javan, Ethan, Heber, Lotan, Reuben, Timna) suggests that they were devout Christians. Indeed the son Reuben became an elder of the Plymouth Brethren.


In 1871 Edwin, still working as a chairmaker, was living at Burnhill, on the bank of the Grand Western Canal, (where the wharf was used for loading chairs for transport to customers). Javan was then 3 years old.

In about 1874, Edwin and Mahala Warren (together with four of their children, Javan, Julia, Lucy and Heber) moved to Commons Leigh, Burlescombe. They remained there for ten years or more (their youngest child, Lotan, was born there in 1883). During this period, Edwin was involved in several incidents which were reported in the newspapers. All the following can be read in the context of the hard times for the Holcombe Rogus chair industry, leading eventually to Edwin's departure from Holcombe Rogus and his family.


In 1876 he took an apprentice, Frederick Eastman, to court, charging him with neglecting to obey orders and leaving his work. The court found in Edwin's favour. The police then had to stop a "wordy war" in court between Mahala and the apprentice's mother!


In August 1878 Edwin Warren's workshop was destroyed by fire, the origin of which was not discovered. A few months later, in February 1879, Edwin appeared in court charged with cruelty to two pigs and was fined £2. In his defence, Edwin referred to the earlier fire in which he had lost everything including tools. He and his family were obviously in serious difficulties from which he almost certainly did not recover.


The mystery of Edwin's departure and the family he left behind

Edwin was still referred to as a cabinet and chair-maker in the 1881 census. But within a few years he seems to have left the family. In 1891 he was living by himself at 11 Midwood Street, Widnes, on the outskirts of Liverpool. He was listed as an unemployed cabinet-maker, born at Holcombe Rogus. His death was registered at Liverpool, aged 65, 7 years later.

Mahala and the family remained at Greenham. In 1891 she lived at 5 Greenham Cottages; she is listed as head of the family, a self-employed laundress. Javan, now a 'gardener', and the six younger children were with her.


Two children married in 1892, both at the Parish Church in Ashbrittle. The first was Javan, who married Mary Jane Thicthener.


Mary Jane Thicthener came from London; perhaps she had become a servant at a house in the Holcombe Rogus area ? Her parents were Henry and Sarah Thicthener of Hampstead, where Henry was a letter carrier. Sarah Thicthener had originally come from Melbourn in Cambridgeshire, and her parents were still alive in 1881, living at Meldreth. The Thicthener clan occupied a pair of houses at numbers 1 and 2 Baker's Row, Hampstead. William, Henry's brother and also a letter carrier, lived with his family at number 1. In 1861 Henry and Sarah lived at number 2, together with his mother Eleanor, brother Joseph, sister Hannah, and their first child Sarah Ann.. Mary Jane was born later in 1861, and James, Rosetta, George and Maria followed during the next 12 years.

Soon after Javan's wedding, Javan's sister Timna married Alfred Charles Talbot. Alfred Talbot had emigrated to Michigan, USA, a year or so earlier. He returned to marry Timna, and the couple returned to Michigan.



Mahala was still at Greenham in 1901, with sons Ethan Lotan and Reuben. The other children had left home and some had left the district. Lucy, unmarried, was working in Bournemouth as a laundress. Julia, also umarried, was a cook at Tavistock. Edwin junior was a baker at Roath, Glamorgan. All this was in 1901. In 1911 Mahala was still living at Greenham together with Phebe; both were recorded as "Laundress Domestic".


Lotan Warren, like his brother Javan, became a gardener. He married Eliza Bennett in 1910. In the First World War he served in a machine-gun unit as a soldier in the King's Shropshire Light Infantry. After the war he returned to work as a head-gardener at various houses in the Taunton/Wellington area. He lived until 1970, aged 87; his widow lived until the age of 96. Their grandson is Tony Warren, now living in Bristol.


Ethan Warren married Ada Jenkins in1906. They then emigrated to South Africa where Ethan first joined the poilice. He then turned to farming and acquired a vast tract of land in the Orange Free State. This was "Sligo 214", by the Vaal river east of Vredefort. He died in 1957 and is buried in a small family cemetery on the land. His descendents still owned the land in 2005, when they obtained permission for residential development.


Tony Warren remembers some of the others who were still alive when he was young. Phoebe Warren and Heber Warren lived in Wellington and lived until the 1940s. He also remembers Reuben Warren. Reuben was a "short person, always immaculately turned out in an old-fashioned Edwardian style".

Javan and Mary Jane Warren and their family

Javan Warren did not work in the declining chair industry, but became a 'gentleman's gardener'.


We know that Henry Hugh Talbot Warren was born in 1894 in what is now called Wistaria Cottage.

But by 1901 when Henry was seven years old they were living at Glebe Cottage, Uplowman, Javan stated to be a Gardener (Census, 1901). Javan died at Drewsteignton in 1908 at the age of 39, from tuberculosis . Mary Jane Warren and her family soon moved to Exeter; Henry was certainly at Hele's School in 1910 . (Kay still has a school prize awarded to him in 1910.)

By 1911, the family had moved to 27 Culverland Road, Exeter. Mary was a "Needlewoman", living with her children Henry and Marjorie together with two schoolboy boarders. Henry went on to Exeter Diocesan Training College for training as a teacher. His first teaching appointment as a 'certificated assistant' in 1915 was at Bedworth, near Coventry. We don't know how long he remained there, but in 1926 he married Ivy Lambert, and he was then (or soon after) teaching at Salisbury, where Allan was born in 1927. By 1932 he had become headmaster at Sherston.


Mary Jane lived until she was 80 and lived with Henry and Ivy Warren at Sherston in her later years. Two of her sisters, Sarah Ann ("Sally") and Rosetta ("Rose") also came to Sherston and were remembered by Allan.