BRATTON FLEMING - THE VILLAGE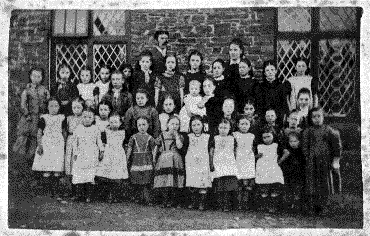 This photograph was taken in about 1875, and six people in it can be identified.
The man at the back is John Henry Baker who ran the school for about 40 years. He came to Bratton Fleming from Middlewich, Cheshire, and took up the post of 'Master' in 1875. The school had been without a 'Master' for many years before that. John Baker arrived at Bratton Fleming with his wife Sarah, and baby son William Henry, and (unusually for a school photograph) they are seen in the centre of the picture. The young woman at the back is a 'pupil-teacher', probably Mary Elizabeth White,. Two of the small girls are Caroline and Mary Hunt of Chelfham Farm.
John Baker's arrival at the school had an immediate impact and the report of the 1875 school inspection included the following
"This school has improved in the numbers, in attendance, and in attainment. Arithmetic is much better than it was last year, but is still far from being perfect. Sewing and knitting are very fair. Singing is very fair. The special subjects Grammar and Analysis give evidence of careful preparation. The ventilation and warming of the room require immediate attention. Two full sets of reading books and a sufficient supply of slates must be provided for each class. A new admission book is required"
In 1823 the Bratton Fleming Friendly Society was set up. Whybrow's book records the names of the founding members and officials, including Richard Hunt, Secretary. The society flourished and in its heyday it had a wide membership across North Devon.
By 1840 the parish could not cope with the maintenance of the highway and a Turnpike Petition was signed by many residents - listed by Whybrow.
* SOURCES OF INFORMATION *

Terry Squire, From slate to software: the story of a Devon village school [Bratton Fleming]. Barnstaple: T. & S. M. Squire, c1994.
Whybrow, Charles. A history of Bratton Fleming.Typescript (1982) 2 vols. [Westcountry Studies Library - xB/BRA 7/0001/WHY]
School Board Minute Book 1884 - 1903. Devon record Office 849 C/1
School Log Book 1863 - 1875