.
.
BRATTON FLEMING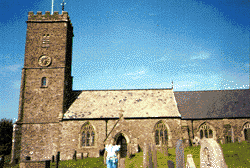 * THE CHURCH & THE VESTRY *
The Minister, Church-Wardens, and leading parishioners constituted the vestry, which had civil as well as church functions. Interesting records survive, and include the names of many individuals. One fascinating episode was the dispute over the church bells.
In 1771 the 'Acts of Vestries' recorded a discussion 'concerning the repare of ye Bells' and an agreement that the 4 bells be cast into a 'peel' of 6. This was progressed during 1773 and 1774, and by January 1775 the project was ready to go ahead and the Church Wardens were empowered to levy a sum not exceeding £500.
By June 1775, the opponents of the scheme had marshalled their forces and the January decision was repealed in favour of a much more modest proposal to repair the two broken bells.
The affair rumbled on for many more years until the bells were eventually replaced in 1789.
The following is a partial list of names from the vestry books:
John Beare, John Berry, John Cutliffe, George Dowdle, Anthony Gill, John Gubb, John Hunt (of Chelfham), John Hunt (of Haxton), Anthony Huxtable, John Pine, Thomas Pool, Esther Radley, John Rogers, William Stanbury, Thomas Tallyn, James Tamlyn,
* SOURCES OF INFORMATION *

Churchwardens accounts, vestry minute books etc. [Bratton Fleming] Devon Record Office 016.352
Whybrow, Charles. A history of Bratton Fleming.Typescript (1982) 2 vols. [Westcountry Studies Library - xB/BRA 7/0001/WHY]
Sources for parish history. 1: Bratton Fleming NDRO 1994